Hope Beyond Hell Unabridged
Sorry, we are presently out of the free book

lets

(Abridged edition). We have the complete unabridged version only. 
Please call 956 831 9011 if you have any questions.
Thanks for your patience.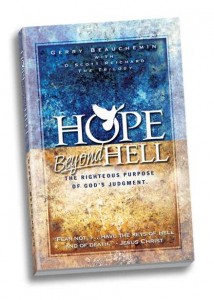 PRINT BOOK ALSO A FREE DOWNLOAD:  See Right Column
ABRIDGED 48 PAGE ED. Easy reading. Great way to introduce others to Hope!

Complete Table of Contents and Introduction


Chapter Six (expounds 16 key Scriptures)

Appendix I (186 glorious passages)

Appendix II (Every Knee Will Bow)

Appendix III (Testimony of Song) plus…

A brief summary (new) of all ten chapters!

Includes sample tract: "Jesus Died to Save the Whole World"
---
"Freely you have received, freely give" (Mt. 10:8)
 48 page Abridged Booklets are FREE (in reasonable quantities). Pay Shipping & Handling. Please do not order more than you will use.
256 page Unabridged Books are available in print on a donation basis plus the cost of Shipping & Handling. What is an appropriate donation? We suggest $2 -$10 /per book as the Lord would lead you. If you would like an unabridged (256 page) book and cannot afford a donation, we will send you one as a gift.
FREE DOWNLOAD: 256 page Unabridged Books are FREE in digital format online.
---
SHIPPING & HANDLING FEES
ATTENTION: International orders including Canada: Please E-mail us requesting specific shipping costs: gerry@hopebeyondhell.net and state in subject line: Shipping Costs Request
Abridged Booklet (48 pages)
Please do not request more books than you will use.
1 Booklet: $2    (within United States only; email us for international costs)

2- 40 Booklets: $5

41- 80 Booklets: $10

81-130 Booklets: $15

Unabridged Book (256 pages)
1 Book $2             (within United States only; email us for international costs)


2

– 6 Books $5


7

– 13 Books $8

14-27 Books $10

28 – 42 Books $15

43 – 56 Books $20

---
DONATING IS EASY WITH PAYPAL (CREDIT CARDS ACCEPTED)
PLEASE FOLLOW CAREFULLY
Calculate total (Donation + Shipping)
Click Donate
Enter total in Donation amount box THEN IMMEDIATELY click "Update Total"
Finish transaction as usual.
You'll Automatically come to THANK YOU Page.

NOW

tell us the # of books you want & provide your address!
YOUR DONATION IS APPRECIATED
Donations will fund the next printing so we can continue to give books and booklets freely. They will also fund other promotional endeavors. If you have questions, please contact us.
---
MAIL & PHONE ORDERS
Make checks payable to: G.C.S.M. (Stands for Great Commission Support Ministry)
Please include a note stating how many books you would like along with your mailing address.

Mail to:
Hope Beyond Hell
8801 Boca Chica #45
Brownsville TX 78521
Phone (956) 831-9011
---
TO ORDER
Call: (956) 831-9011
Write: Hope Beyond Hell    8801 Boca Chica #45   Brownsville, TX 78521
Make checks to: G.C.S. M. (Great Commission Support Ministry)